A joy for life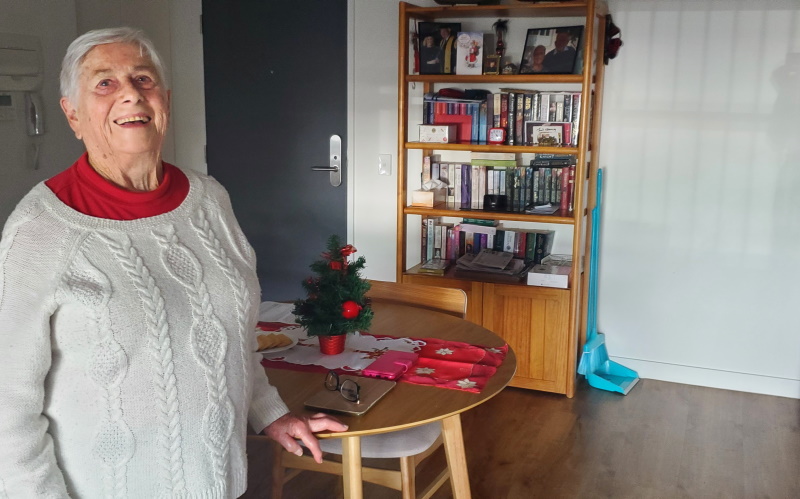 When 91-year-old Joan wakes up in her apartment In Melbourne's West every day, she says 'thank you'.
Joan and her late husband Alby raised their two boys and two girls in Coburg. They were married for 57 and a half years and did everything together. They travelled overseas, visited their daughter in Queensland and followed Essendon FC; their Aussie Rules footy team. When it was time to downsize, Joan and Alby sold their home and moved to a smaller self-contained unit in a retirement community where they made new friends.
When Alby sadly passed away, Joan continued to live in her unit, until the village was sold and residents had to move on. "It was very stressful," Joan remembers. "We weren't sure where we could go. Many people were very stressed. The worry affected their health and they ended up in aged care."
At the time, Unison was nearing completion of a new 54 self-contained social housing apartment complex in Melbourne's West and contacted Joan with an offer of a new unit. The move was difficult, but a good one.
"When I first moved it was really hard. It was during a COVID lockdown. There were lots of tears in the beginning, but I opened all my boxes and settled quickly."
Three friends from her retirement village also moved in, which has kept the friends and neighbours together. Joan enjoys her new neighbourhood and new home. "I have a lovely spacious unit with a nice bathroom and garden. My lavender is growing really well!"
A keen reader, Joan is a frequent visitor to the local library. "I've got everything at my fingertips; the library, doctors, bank, shops, market and the physio. The public transport is great with the bus stop just outside the front door!"
Joan is often out with her friends, whether it be at local cafes, river and bus trips with the local community group, Morning Melodies or at the Movers and Groovers, an exercise class at the local gym.
Joan is a bright spark, a good friend and has a joy for life. "I have had a good life so far. I try to keep myself positive.
Share this article