Because of her, we can!
In NAIDOC week Unison are celebrating the contribution of one of our tenants, Leanne Shearing, who lives in our UNO apartment building in Adelaide.

Leanne is one of the original UNO residents and has lived in our "vertical neighbourhood" for 6 years. A skilled Aboriginal artist, Leanne is a member of the Arts group (made up of a group of artists and residents who call the UNO home).
The UNO Arts group are using the UNO hub weekly to practice arts and crafts and will be turning the UNO lobby into a vibrant gallery for SALA (South Australian Living Artists) Festival.
Adelaide's Saana Street Festival, which promotes the artistic talent of SA's multi-cultural communities, has been graced with Leanne's work exhibited along with other talented and culturally diverse artists.
Leanne's contribution doesn't stop with her art. She is also a qualified aged/disability carer, a skill that has enabled her to care for one of her neighbours.
Leanne met and married her now husband while living at the UNO, has a part time job, and late last year she transitioned to an NRAS property at UNO.
Throughout her 6 years living at UNO, she has been an active community member, an UNO Resident Committee member from day one and a community champion.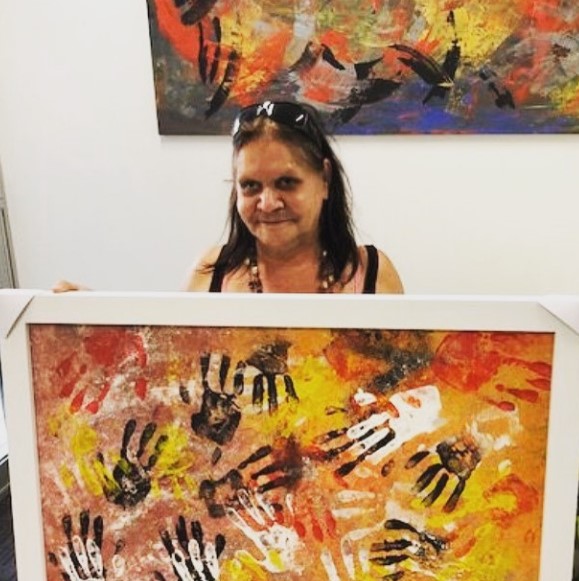 Leanne and her latest work "Healing Hands" - asking people to put your hands up to say no to violence against women and children at the hands of men.

Share this article