Unison Community Food Forest wins national award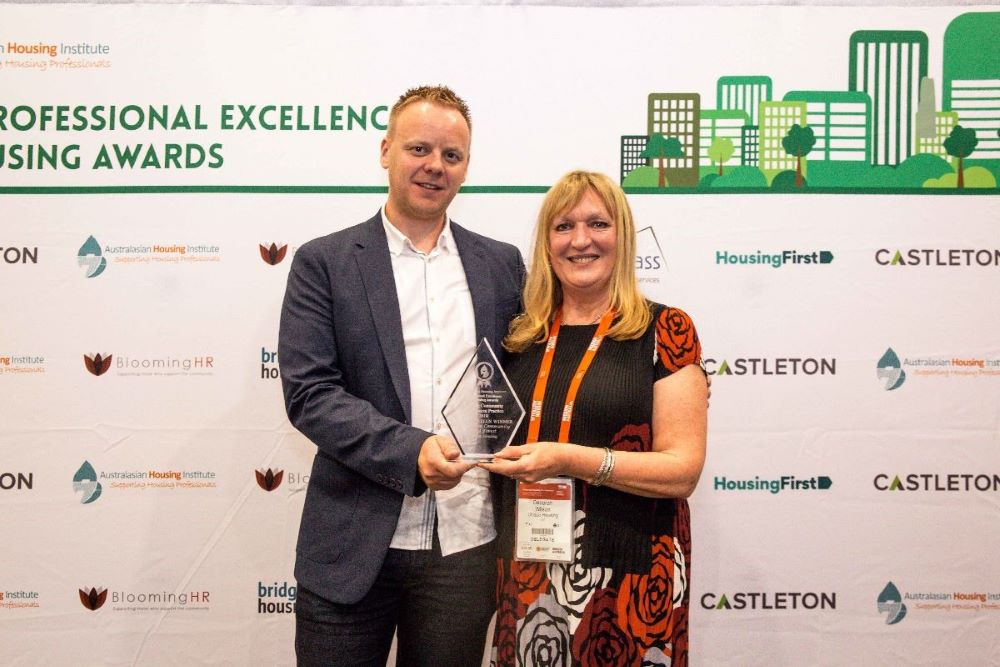 We are delighted to announce that Unison's Community Food Forest in Kensington won the National Leading Community Engagement Practice Award at the AHI 2019 Professional Excellence in Housing awards, in Darwin on Tuesday 27 August.
The Food Forest was established in 2017 on underutilised social housing land on our 6.5 ha mixed tenure community in Kensington. The Forest is built on sustainability principles including natural pest control, water harvesting and weed minimization. It has also generated additional community projects around healthy living such as the Healthy Living and Learning partnership program which promotes healthy lifestyles, nutrition and food-growing. This project fosters community engagement and connects residents from all walks of life and age groups around a food garden and active space.
Unison Community Engagement Place Manager, Deb Wilson, was on hand to receive the award saying, "It was an amazing honour to win the Victorian Award and a great privilege to be nominated for the National Award along with all the other deserving nominees."
"The Food Forest has come about through many valued partners. It is a wonderful community investment that will continue to grow into a beautiful, thriving and safe open space and community asset."
Unison Housing leads the project with partner Living Learning Australia. Initial funding was provided by the City of Melbourne and the forest grows on land owned by the Victorian Department of Health and Human Services.
At the award ceremony, Andrew Davis, President of AHI, said: "These awards were presented to organisations and social housing professionals who have achieved extraordinary results from innovative and effective housing development and tenant engagement practices. As an industry we recognised and celebrated the biggest social housing success stories of the past two years."
We would like to thank all our residents, partners and staff involved in this project for their hard work and collaboration which has brought this community asset to life. It is a wonderful example of our vision, Communities that Thrive, by connecting neighbours, young and old, and from diverse communities.
Share this article