Unison's Footscray social housing development wins two UDIA Awards for Excellence
We are proud to announce that Unison's Napier Street Footscray development has won two Awards in the 2020 Urban Development Institute of Australia (UDIA) Victoria Awards: the Affordable Development Award and the overall Judges' Award Metropolitan Melbourne.
"As a leading developer of social housing in Victoria, we are committed to building and managing housing that is well designed, affordable, accessible and secure," James King, Unison CEO, explained.
"It is a great honour to see our hard work and high standard of property development recognised in the industry with these Awards," he added.
UDIA said: "While the judges were deeply impressed by the manner in which Unison operate; providing services to people without other options, and not cherry-picking residents; it was the quality of what was produced and the efficiency of the project that made it stand above most other developments."
"Unison Housing were able to finish the project on an extremely tight budget and ahead of schedule. They have achieved a well-designed and attractive development with a focus on residents' wellbeing and quality of life."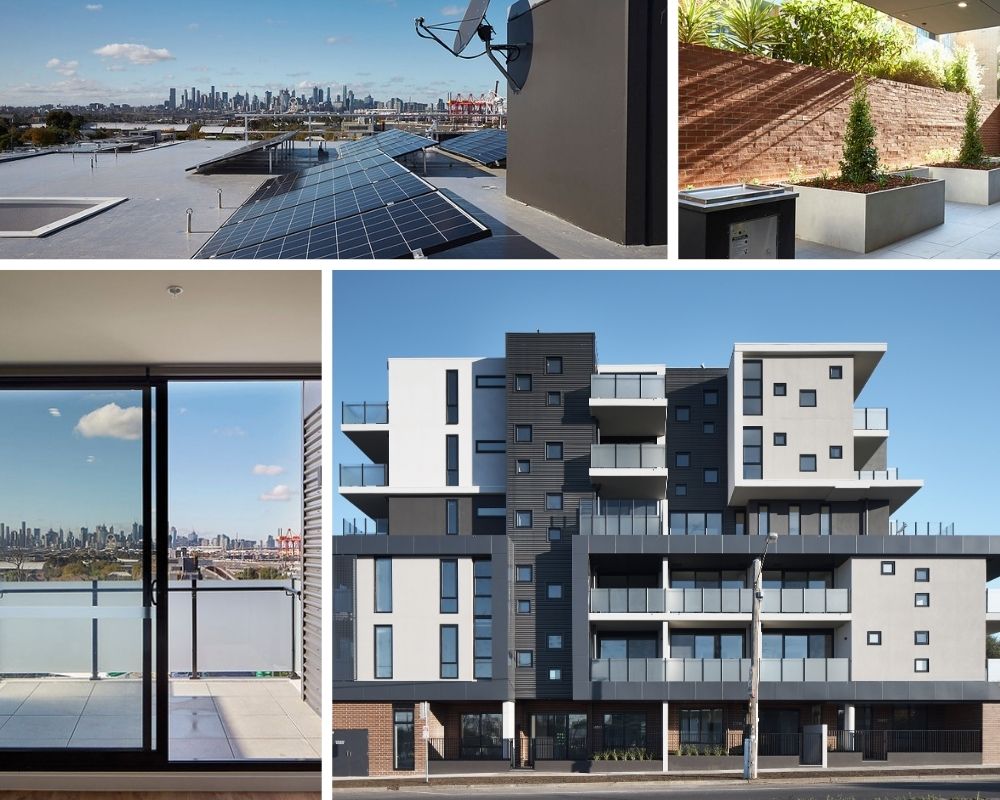 Back in 2018, we started the transformation of an aged and dilapidated rooming house of 17 small units into a first-class building with 54 brand new self-contained studio and 1-bedroom apartments, spread over six levels. Opened in 2020, weeks ahead of schedule, the complex offers safe, modern and long-term accommodation to people who need it most in Melbourne's west.
"Residents' well-being and quality of life is always top of mind when designing a project like this. Together with our builders and design team we've created a place where people can feel safe, welcome and proud to live in."
Armindo De Olizeara is one of the tenants of the new building. After moving into his own self-contained flat in Footscray he said: "I feel like I'm in a five-star hotel. I've got lots of space. I'm very happy where I am."

Armindo De Olizeara (right) outside his new home at a social housing development in Footscray, with Unison acting CEO James King. (CREDIT: JASON SOUTH)
The new development incorporated biophilic design elements with great natural light and airflow, a friendly large communal area and outdoor garden, high-standard energy efficiency, accessible facilities, and enhanced safety measures.
The aim of the sustainable design features is to reduce the overall environmental impact, whilst also accommodation quality and reducing the resident's utility costs.
As part of Unison's approach to tenancy management, the building is also home to a Place Management Office, which enables our team to provide timely and personalised support to assist people with their tenancies and connect them with their community, local services, and social and economic opportunities.
Outreach is provided onsite by Unison partners McAuley Women's Community Support Services, for the women McAuley have referred to Napier Street.
Resident, Wheels, moved from the old rooming house to the new building and is very much enjoying his new self-contained unit. "It is a lot lighter and brighter than the old building. The bathroom and kitchen are bigger and it is so quiet," he said.
"It gives me a real sense of freedom and is less stressful. I don't have to worry about other people's mess, I can choose when to wash my dishes and can make a snack in the middle of the night if I want to."
A big thank you and congratulations go out to Manresa Construction and our design team for working with us on this project, and the Victoria Property Fund for assisting us develop this project to increase the supply of long-term affordable housing for low income and disadvantaged Victorians.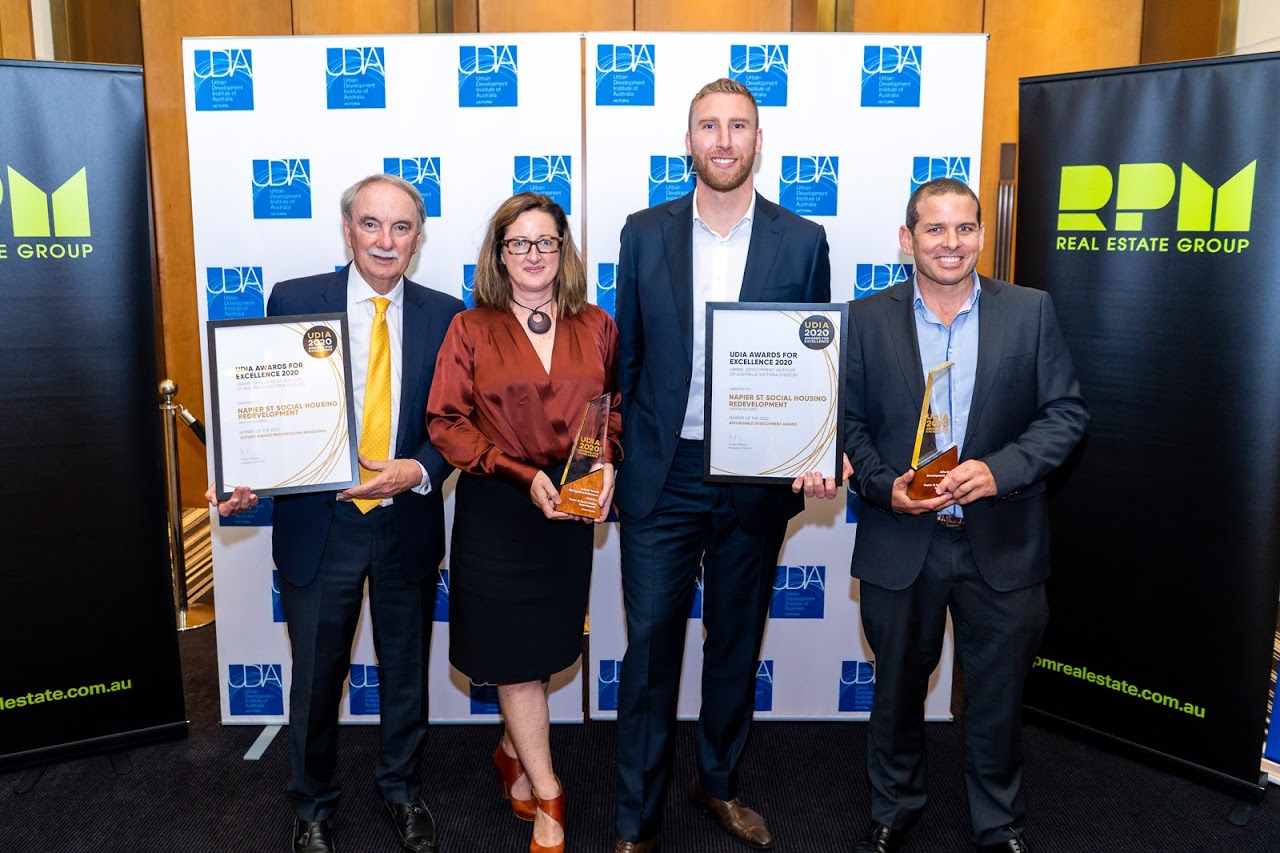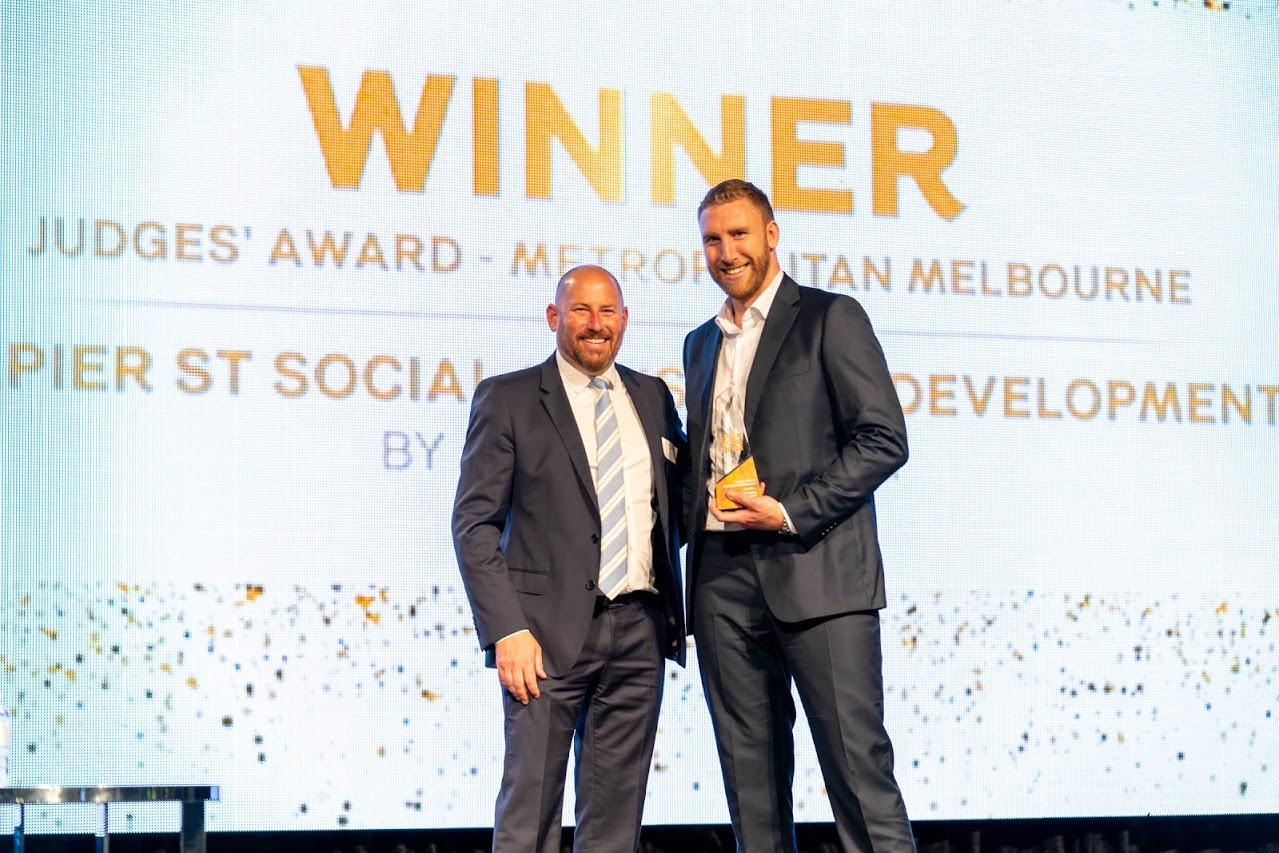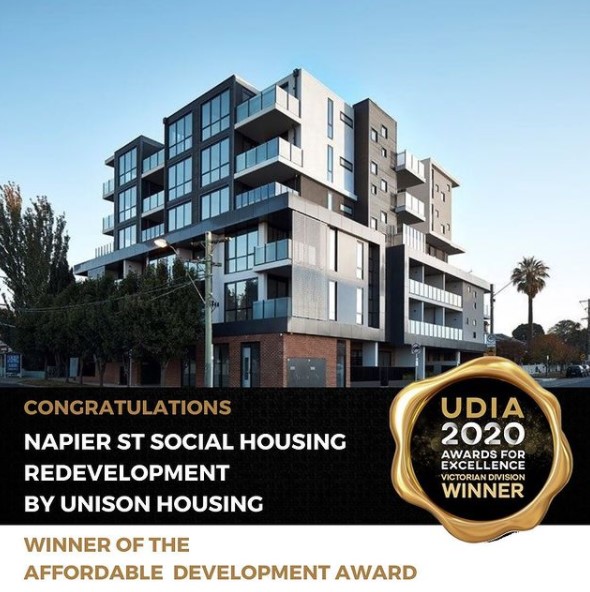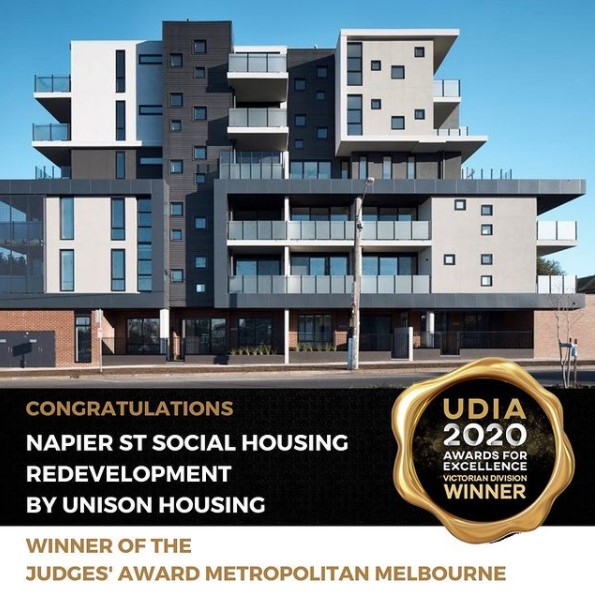 ---
More articles about this development:
Share this article