Unison wins another National Award for Excellence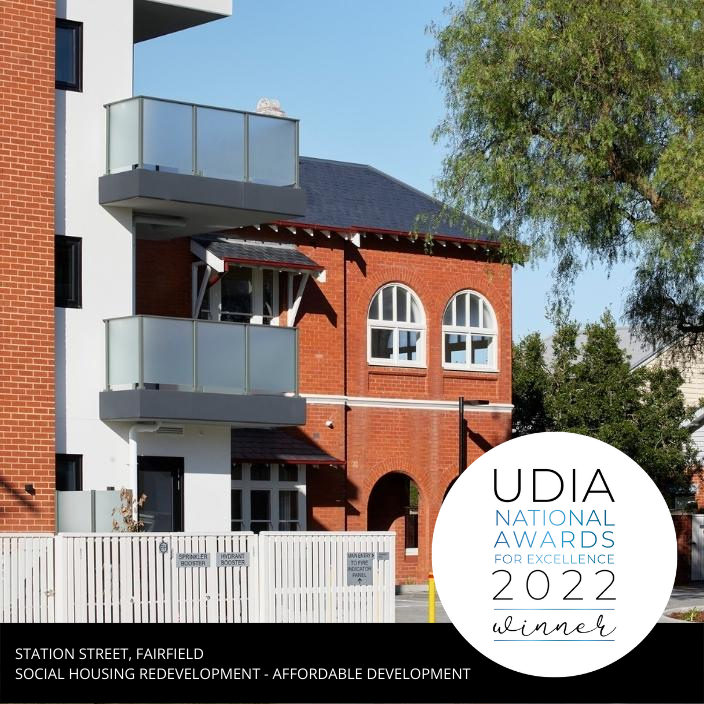 We are very excited to announce that Unison has won a 2022 Urban Development Institute of Australia National Award for Excellence – Affordable Development, for our Marjorie Oke Apartments. The community housing redevelopment is in Fairfield, Victoria.
This is the second year in a row that one of our community housing developments has been acknowledged nationally by the UDIA for quality and innovation in urban development.
Unison completed the $11.5M, 38-unit Marjorie Oke Apartments in 2021. The project included the refurbishment of a double-storey Victorian heritage building and a new four-storey apartment building to replace the former 22-bedroom rooming house.
Marjorie Oke Apartments offers safe and secure homes to women experiencing or at risk of homelessness in Melbourne's inner north. Residents' wellbeing and quality of life has driven the design principals.
"Winning two years running is an incredible achievement of which we are very proud and reaffirms we are leaders in this space. However, better than winning any award is seeing the lifechanging impacts for the vulnerable renters who live at the property and this is what drives us." said Unison CEO James King.
Unison would like to acknowledge our partners in this project:
The Victorian Government for in part funding this project on the approval of the Director of Housing;
The National Housing Finance and Investment Corporation (NHFIC) for their financing assistance;
The Darebin City Council and Mayor Messina for their enthusiastic support of this project;
The project teams from Manresa Constructions, Reshape Development and FMSA Architecture for delivering such an outstanding build; and
The Unison team for going above and beyond to deliver the best for our community
The $11.5m project was in part funded by the Victorian Government and the balance of the project's costs was funded by Unison.
This property also won the 2021 Planning Institute of Australia, Victorian Award for Planning Excellence for Great Place.
---
---
Steeped in history, the Marjorie Oke has a very interesting story to tell. Find out more about Unison's redevelopment and her history, here.
https://unison.org.au/about-us/our-properties/station-st-fairfield
Share this article