You are invited to the 2020 Kensington CommUNITY Festival!
Save the date: the much-loved Kensington CommUNITY Festival is on Sunday March 29 at Kensington's JJ Holland Park from 10am to 4pm.
Held during Cultural Diversity Week, the Festival is a signature local event celebrating Kensington's diverse community. Last year over 6,000 people attended the family friendly free event.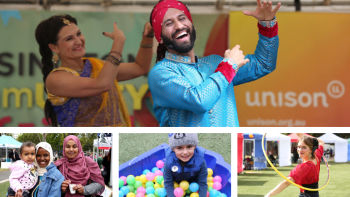 The Kensington CommUNITY Festival is led by Unison Housing with a whole host of residents and community partners. Unison Housing is the long-time place manager at the Kensington Redevelopment, a former high rise public housing estate which is now a vibrant neighbourhood with a mix of social, affordable and private homes.
The Festival started in 2007 as a small event initiated by Kensington public housing tenants to connect the redeveloped public housing estate to the local community and celebrate neighbourhood diversity.
Today, the original purpose of the Festival remains
Strengthen connections between the Kensington Redevelopment and the wider community;
Celebrate and showcase the local community with activities that foster a spirit of togetherness, fun and cultural exchange; and
Promote local business, community and government services and agencies.
Now in its 12th year, the Festival promotes community connection in a fabulous atmosphere with live music from Kensington to China to Cuba to Bollywood, food from all corners of the globe, kids' activities, roving performers and interactive community stalls.
The Festival also has a strong sustainability theme with Festival goers encouraged to bring their own reusable cups, carry bags, food containers and water bottles.
At the Festival there will be many easy ways to minimise impact such as
Mobile bike racks
Waste processing stations with recycling, landfill and organic waste options
Wash up stations for community crockery and cutlery
City West Water drinking fountains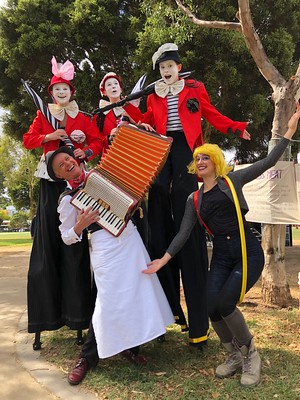 The Kensington Sustainable Living Expo is part of the Festival once again and includes a pop up mini repair hub (BYO small items for repair e.g. jewellery, textiles, wooden items, and bikes), information on worm farms, local composting, food gardens, Boomerang Bags and bucket loads of sustainable ideas.
The Festival's major sponsors are the City of Melbourne and the Department of Premier and Cabinet.
Festival partners include the Kensington Neighbourhood House, Kensington Community Recreation Centre, Living Learning Australia, The Venny, Kensington Children's Cooperative, Kensington Chinese Friendship Association, Victoria Police, MSS Security, 78 Seniors Club, the Kensington Association and Transition Town Kensington.
Festival information and updates can be found on the website www.kencommfest.org
You can also follow the Festival on Facebook, Instagram and Twitter. Just search for KenCommFest.
See you there!