The return home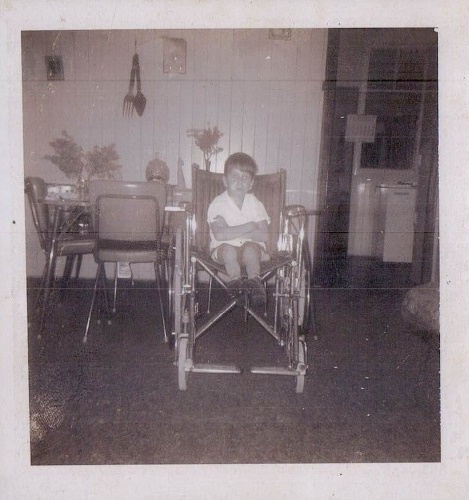 If you use a wheelchair, you quickly work out the most welcoming and accessible areas when you get out and about for a wander, to do your shopping or to get a coffee.
Wheels, as he is known for obvious reasons, has been in a wheelchair since he was 7. He reckons Melbourne's West is a pretty good place to live.
"Footscray is home. I find the people here friendly and accepting of diversity. It is a lot more wheelchair accessible and people are really considerate. I find it slow paced and even the motorists are mindful of people in wheelchairs and scooters."
Along with his mate Squirt, a Chihuahua/Jack Russell cross, Wheels has returned to live at Unison's Napier Street property in Footscray after the former aged and dilapidated block was demolished and a modern apartment building with private facilities, built in its place.
The rooming house had been Wheels' home for 13 years. While the new building was being constructed, he lived in a Unison property in the inner city which he found difficult because of the uneven paths, cobble stones and the faster pace. It just didn't feel right.
So what did he think when he got the call to return to Footscray?
"I was so thrilled when Irena from Unison rang up to ask whether I wanted to move back."
Squirt was equally happy to return and instantly recognised the familiar smells.
"I have been getting my coffee at the same café for years and the local butcher knows Squirt and gives her tidbits. I really relate to the community here, and they welcomed us back."
Wheels has settled well into his new home where he has found having his own kitchen and bathroom makes a huge difference.
"It gives me a real sense of freedom and is less stressful. I don't have to worry about other people's mess, I can choose when to wash my dishes and can make a snack in the middle of the night if I want to.
It is a lot lighter and brighter than the old building. The bathroom and kitchen are bigger and it is so quiet. Squirt loves the balcony for a bit of a wander."
The security is important to Wheels as well. "I have a fob to get in the front door and to use the lift and the mailboxes are inside and a lot more secure than the old building."
Current Covid-19 restrictions have put the brakes on a few of Wheels' plans for now, but he has a lot to look forward to.
"I am waiting for restrictions to ease so I can get a few more things for my apartment. I can't wait for my new wheelchair. I've had my current chair for 30 years and I bought it second hand back then!
I would also really like to catch up with my next door neighbour from the old Napier Street property. He still lives in the area and I will look him up."
Share this article