Development
Unison is an experienced and award-winning social and affordable housing developer, having completed a range of projects, individually and in partnership with other social organisations, as well as local and state governments.
Our mission is to collaborate to create vibrant, sustainable communities that meet the needs of renters, owners and people who are homeless, by developing, managing and providing access to affordable housing.
Working collaboratively with builders and developers, we aim to reimagine community and strengthen connection between people and place.
We are experienced working with developers and local and state governments during planning, construction and handover of medium to high density apartment developments. We bring together planners, designers, engineers and community residents to get a broader perspective on how buildings and building design works in place.
We work with like minded people to formulate collective ideas and aspirations about what a place/community can be for people from all walks of life, and who share a commitment to provide a quality service.
Unison's place management approach is a crucial onsite mechanism to help steer all aspects of a development through construction, community engagement, asset design and maintenance. As place managers we immerse ourselves in the detail of the build and forecast maintenance service and life cycle planning requirements.
To talk to our team about a development project, please contact Unison CEO James King on 03 9349 0250.
PROJECT: Award-winning development in Footscray, Vic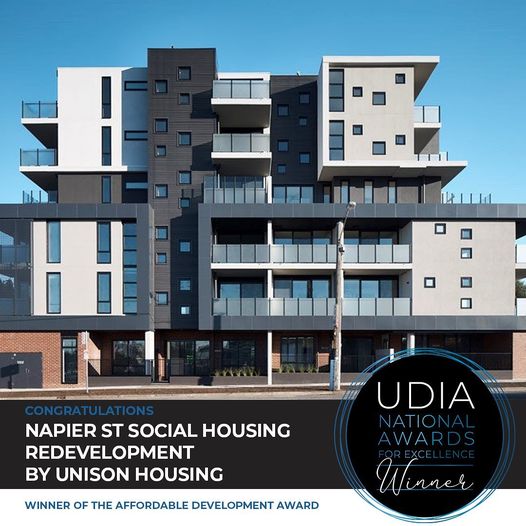 Status: Completed
Unison transformed a run down block of 17 small units into 54 brand new self-contained apartments. All units are let as social housing to people who have experienced or are at risk of homelessness, offering safe and modern homes to people who need it most.
In 2021, Unison won the Urban Development Institute of Australia (UDIA) National Award for Excellence for this social housing development in Melbourne's west.
This major project was in part funded by the Victorian State Government's Victorian Property Fund, which supports registered Housing Agencies to carry out development projects to increase the supply of long-term affordable housing for low income and disadvantaged Victorians.
Designed with a focus on residents' well-being and quality of life, the development features great natural light and airflow, friendly large communal area and outdoor garden, high-standard energy efficiency, accessible facilities, and enhanced safety measures.  
Features include:
Rooftop solar to lower utility costs and environmental footprint 

Rainwater harvesting system for toilet flushing and irrigation

Embedded network  

High-performance glazing and energy efficient building services

 

Secured bike storage facility 



As part of Unison's approach to tenancy management, the building is also home to a Place Management Office, which enables our team to provide timely and personalised support to assist people with their tenancies and connect them with their community, local services, and social and economic opportunities.
Outreach is provided onsite by Unison partners McAuley Women's Community Support Services, for the women McAuley have referred to Napier Street.
More articles about this development:
PROJECT: New $30m social and affordable housing project for Werribee, Vic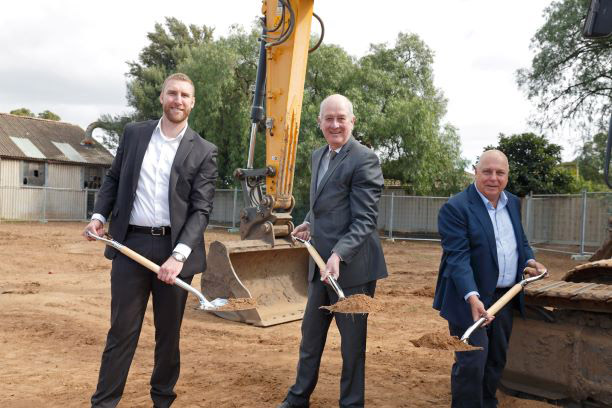 Status: In Progress
In April 2021, Victorian Treasurer and Member for Werribee Tim Pallas and Minister for Housing Richard Wynne joined Unison to turn the first sod and celebrate the start of construction of a $30 million new social and affordable housing development in Werribee.
This project, which will deliver 74 new dwellings for vulnerable and disadvantaged Victorians, is particularly significant for the City of Wyndham given its growing housing affordability crisis and lack of social housing.
The Victorian Government supported Unison's project based on its proven track record of delivering high-quality projects and successfully operating them within the community, with great outcomes for renters.
The $30 million building will include community spaces, solar panels and modern facilities. Its location, in the heart of Werribee, means residents will have access to nearby education facilities, employment opportunities, support services and shopping precincts.
Once complete, the building will also house onsite support services which will facilitate timely and personalised support to renters, to assist them with their tenancy and foster community inclusion.
This major project was in great part funded by the Victorian Government's Building Works stimulus program, which supports shovel-ready housing projects, to help address the housing affordability crisis in Victoria while creating new jobs.
The balance of the project's costs is funded by Unison. As a not-for-profit organisation, Unison reinvests operating surplus back into our services, our properties and our communities, and importantly the development of much-needed affordable housing.
The development is due for completion late 2022.