Information for Private Rental Tenants
CORONAVIRUS (COVID-19) UPDATE: Information for private rental tenants
The safety and wellbeing of our community are our top priority and our goal is to continue to deliver services.
Unison is carefully monitoring developments related to the COVID-19 (coronavirus disease) pandemic to understand the impacts on our community, services and activities. Based on guidance from the Australian and State Governments and health authorities, we are making some changes to the way we work to protect you, our staff and the community.
Please read the important updates for you as a tenant below.
IMPORTANT UPDATE TO OUR TENANTS
→ Be cautious about covid-19 scams

DHHS has reported that scammers are pretending to be Government agencies providing Covid-19 information via text and emails. Scams include false notifications of close contacts to confirmed coronavirus cases which contain malicious links and attachments designed to steal personal and financial information when they are opened.

Please be cautious and remain alert to scams. Government agencies will not ask you to click an email link or open an attachment. The COVIDSafe app will not notify any person directly that they are a confirmed case or the contact of one - only a DHHS public officer would.

If you suspect that you have been a target of a scam or are unsure, go to https://www.scamwatch.gov.au/report-a-scam

→ Changes to our service delivery

To reduce the health risks to everyone, we have made the decision to close our office until further notice. While our office may be closed, our Property Management team is working remotely and is still available to assist.

→ Repairs and maintenance

For the duration of Stage 4 Restrictions, Unison will process only URGENT maintenance requests to Unison properties.

This is for works that are URGENT as defined by the Residential Tenancies Act, plus those considered essential for life safety.

URGENT requests include:

burst water service
blocked or broken toilet system
serious roof leak
gas leak
dangerous electrical fault
flooding or serious flood damage
serious storm or fire damage
failure or breakdown of any essential service or appliance provided by a landlord or agent for hot water, water, cooking, heating, or laundering
failure or breakdown of the gas, electricity or water supply
any fault or damage in the premises that makes the premises unsafe or insecure
an appliance, fitting or fixture that is not working properly and causes a substantial amount of water to be wasted
a serious fault in a lift or staircase.


Contractors with non-urgent works instructed to them have been instructed to contact tenants to place the work on hold.


The works will be undertaken once restrictions are lifted.

For URGENT maintenance requests, the process to report a repair or maintenance issue remains the same:

As this unprecedented situation continues to progress, response times from our teams may be a bit slower than usual, but be assured that we will respond as soon as possible. We appreciate your patience and understanding.

→ What to do if there is a change in your financial circumstances?

We are committed to supporting you in your tenancy. The impact of COVID-19 has been felt everywhere. We understand that some tenants may have reduced hours of work and that some may have lost employment. If this is impacting you, please contact your Property Manager as soon as possible so that we can assist you to find a solution.

Your Property Manager will continue to collect and monitor rent payments closely on behalf of your landlord. We strongly encourage you to contact your Place Manager if you are experiencing difficulty with your rent payments.

The Victorian Government has recently announced rent relief grants for Victorians experiencing rental hardship as a result of the coronavirus (COVID-19) crisis. Please visit the following links to find out more:

→ What we ask of you

Please let us know as soon as possible if you or anyone in your household is in self-isolation, is feeling unwell, or has been in contact with anyone who tested positive or is in the process of being tested for the virus. This will help ensure we take the appropriate measures if we need to send out contractors to your home.

If you are waiting for the results of your coronavirus (COVID-19) test, please self-isolate until your receive the test results and let us know if you test positive so we can ensure you have the assistance you need.

Visit https://www.dhhs.vic.gov.au/self-quarantine-coronavirus-covid-19 for further advice on who should quarantine and who should isolate.
HOW TO PROTECT YOURSELF AND THE COMMUNITY
-> Mental health and wellbeing

This is an anxious and uncertain time for everyone and support is vital and available. For more information about managing stress and support options, call the Coronavirus Mental Wellbeing Support Services on 1800 512 348 or visit coronavirus.vic.gov.au.

→ Keep informed of the latest update

We encourage you to look after yourself, your family and the community.

From 11:59pm on Sunday 2 August 2020, all Victorians must wear a face covering when they leave home, no matter where they live.

Please follow the community health advice and keep informed of the latest update by visiting dhhs.vic.gov.au/coronavirus or calling the Coronavirus Helpline on 1800 675 398 (free call, 24/7).

Information is also available in other languages: https://www.dhhs.vic.gov.au/translated-resources-coronavirus-disease-covid-19 and https://www.sbs.com.au/language/coronavirus

→ I am feeling unwell, what should I do?

If you have a fever, cough, or trouble breathing, call your GP or the Coronavirus Helpline on 1800 675 398.
If you are feeling seriously unwell and it is an emergency, call 000 immediately.

→ Restrictions in place

As part of the Stage 4 Restrictions, the Victorian Government is directing everyone in metropolitan Melbourne to stay home and only to go out from 5am to 8pm for the following reasons:

Shopping - Only one person per household can leave the home per day to shop for essential goods and services within 5km of your home.
Exercising – you can exercise once a day for up to one hour with one other person, as long as you are within 5km of your home.
Giving or receiving care or attending medical appointment- remember to wear a face covering
Work – if you cannot work from home and your industry is allowed to continue operating


For regional Victoria, the Victorian Government is directing everyone to stay at home and to wear a face coverings at all times when outside your home. Regional Victorians are required to stay home unless you are: shopping for essentials, receiving or providing medical care or support, exercising, or travelling to work or education,.


Please note that you may be fined if you do not adhere to the Government's restrictions.

For the latest information, please visit https://www.dhhs.vic.gov.au/victorias-restriction-levels-covid-19

If you are expecting a delivery, please ask the delivery driver to leave it at the front door of the office for you to collect it – unless you have been diagnosed with Covid-19 or are self-isolating.

Note that support is available if you are unable to go out to shop for essentials or receive medical care. Contact your Place Manager to find out more.

→ Gatherings restricted

All in-person non-essential groups in metropolitan Melbourne and the Shire of Mitchell will stop meeting.

In addition, if you live in metropolitan Melbourne, or in Regional Victorian you cannot have visitors to your home, unless it is to provide care or other essential services.

For people living in rooming houses, the rules around no visitors continue to be in place.

No more than two people should be in common areas of Unison buildings, like kitchens, laundries and lifts. When there is already two people in a common area, please leave and come back later.

→ Follow the health advice to stop the spread

All residents, clients and staff should follow the government directions as follows:

Stay home unless you are: shopping for essentials, receiving medical care, exercising or travelling to work or education
Restrict visits to your home and do not get together with more than one other person at a time
Keep a full arm-span (about 1.5 metres) between yourself and other people where possible
Wash hands often with soap and running water, for at least 20 seconds. Dry with paper towel or hand dryer.
Try not to touch your eyes, nose or mouth
Cover your nose and mouth with a tissue when you cough or sneeze. Dispose of the tissue.
If you don't have a tissue cough or sneeze into your upper sleeve or elbow
Continue healthy habits: exercise, drink water, get plenty of sleep, don't smoke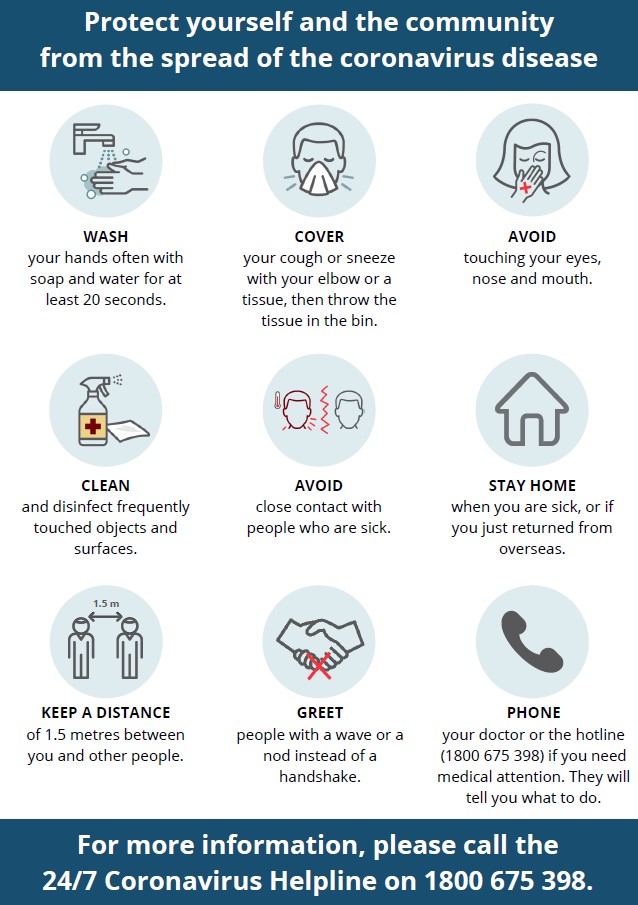 Your Privacy Rights
Unison complies with legislative requirements in the way that we collect, use, disclose, and provide access to personal information we hold about you. We treat your privacy seriously. Find out more about your privacy rights in our Information Privacy brochure and Unison's Information Privacy Policy.


Unison Membership
Unison is a not-for-profit organisation. Our members are important stakeholders with particular rights. Members appoint board directors and are able to vote at company general meetings. Membership is free. The Unison member factsheet provides more information.
To apply for membership complete the Unison membership form. If you would like further information call in to your nearest Unison office or contact Nina on (03) 9349 0257.
More information for tenants