COVID Vaccine: Information for tenants
The Victorian Government has announced that people living in high rise/low rise housing and community housing are now eligible for the COVID-19 vaccine, regardless of their age.
This means that as a Unison resident, you are now eligible to receive the free vaccine.
How to get the vaccine?
Find a vaccination centre or clinic near you. Click here for a list of vaccination centres. We have also listed two places where you can receive the vaccine in Melbourne's west:


cohealth, 98 Abbotsford Street, West Melbourne
8:30am to 8pm, Monday to Saturday
Call 9448 5557 to book


Pavilion 4 at the Melbourne Showgrounds, Epsom Road, Ascot Vale
8.00am to 7.00pm, seven days a week
Call the Coronavirus Hotline on 1800 675 398 to book (Select Option 1 + Option 1 + Option 1)
(Walk ins welcome - see wait times here)

Book an appointment by calling the Coronavirus Hotline on 1800 675 398 (Select Option 1 + Option 1 + Option 1). Note that some centres also accept walk ins.
For an interpreter, press 0. 
If you or the person that you are booking has a disability and needs additional support to get a COVID-19 vaccine, email DLOcoordinator@dhhs.vic.gov.au
What do I need to bring?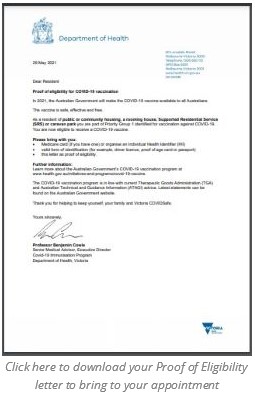 You will need to show your Proof of Eligibility letter. It is important that you bring this letter with you at the appointment.

→ Click here to download your Proof of Eligibility letter, or

→ Contact your Place Manager for a copy of the letter.


A face mask to wear when you're in a vaccination centre.


A photo ID with your current address at a community housing building.


Your Medicare card, if you have one. If you don't have a Medicare card, bring an Individual Healthcare Identifier number.


Information about your medical history such as allergies.
What vaccine will I get?
People under 50 years old will receive the Pfizer vaccine, while people over 50 years old will receive the AstraZeneca vaccine.
Is the vaccine free?
The vaccines are free for everyone in Australia, including people who don't have Medicare access.
Do I have to get vaccinated?
The vaccines are voluntary - you can choose if you want to get vaccinated against COVID-19. The more people who are vaccinated, the more protected our community will be.
More information
For more information, visit coronavirus.vic.gov.au/vaccine or talk to your GP.