Breaking the cycle of youth homelessness with safe and supported accommodation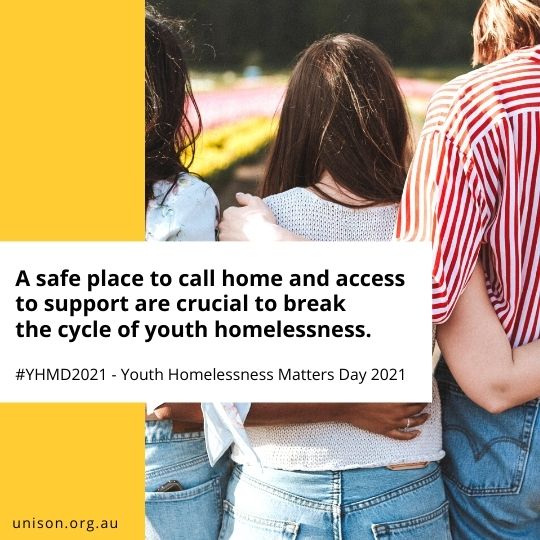 Did you know that one in four people experiencing homelessness in Victoria are aged between 12 and 24? On any given night, 6,000 young Victorians are spending the night without the comfort or safety of their own home, according to the 2016 Census.
A safe and secure place to call home and access to support networks are crucial to break the cycle of homelessness.
Together with our partners, we have a number of initiatives specifically focussed on assisting vulnerable young people. One such project will open its door in the second half of 2021 in the City of Wyndham, where youth homelessness has increased by 76 percent in the last five years.
Unison and Melbourne City Mission have built on their existing strong partnership to collaborate on the design and development of a supported accommodation service delivery model in Werribee, funded by the Health, Housing and Homelessness (H3) Alliance.  
The two non-profit organisations are working on a new purpose-built, high-quality supported accommodation in Werribee with dedicated case work support to young people aged 16-25 for up to two years.
The program aims to prevent adult homelessness, and establish young people in safe and secure housing at a critical developmental life stage. 
The facility will offer eight modern, self-contained apartments with floor to ceiling windows, equipped with solar powered electricity to reduce the tenants' utility bills, with onsite support provided by Melbourne City Mission.
In its report Who stays, who leaves and why, the Unison Housing Research Lab has identified young people as a group at risk of early tenancy loss and in need of focussed support to sustain their housing. 
Melbourne City Mission's will provide case work support to the residents for up to six months after they move into long-term housing. The onsite support team will deliver group programs for residents, facilitate access to education, training and employment and help foster connections within the broader Wyndham community, while working with the young people to develop their independent living skills. 
Safiya, a Unison Place Manager, explained the importance of a stable home for young people.  
"It is great to see how stable and secure housing can help young people develop. Many of the young residents we house come from traumatic and unstable circumstances.  
The new place will give young people a chance to grow into adult independence with a level of support they don't currently have, and in turn help prevent future experiences of homelessness.
"With a home, a young person can think about university and work, and pursue these aspirations with the support of Melbourne City Mission." 
About the Health, Housing and Homelessness (H3) Alliance
Established in 2007, the H3 Alliance is a partnership of agencies representing health, housing and homelessness in the Wyndham area which aims to support people who are homeless or at risk of homelessness by offering integrated and collaborative services across the spectrum of housing needs. Working alongside Unison and Melbourne City Mission are Wyndham City Council, Uniting Wyndham, cohealth, Bolton Clarke Homeless Persons Program, Mercy Health - Werribee, WEstjustice, Whitelion, The Salvation Army, Wyndham Community Education Centre and Safe Futures Foundation.  
In December 2016, the H3 Alliance was successful in receiving $15 million from the State Government to deliver a suite of services which include early intervention, crisis and transitional support, youth specific responses, private rental support and assistance for households in mortgage stress. The funding package also included resources to increase the supply of housing in Wyndham, including funding to purpose-build medium-term accommodation for young people in the area.   
The H3 Alliance has added much needed resources to the service system in Wyndham and brought together diverse agencies to work in an integrated fashion to respond to homelessness in this rapidly growing region.  
Who stays, who leaves and why? Occupancy patterns at Unison Housing between 2014 and 2016 is a report published in 2019 by the Unison Housing Research Lab, authored by Professor Guy Johnson, Susan McCallum and Dr Juliet Watson. Click here to access the full report.
> If you are experiencing or at risk of homelessness, please call 1800 825 955 (free call, 24/7) at any time to speak with a housing and support worker.
> For further information about Unison's homelessness services click here.
> Useful information is also available on the CHP website: https://chp.org.au/need-help/
Share this article