Bustling community activities just around the corner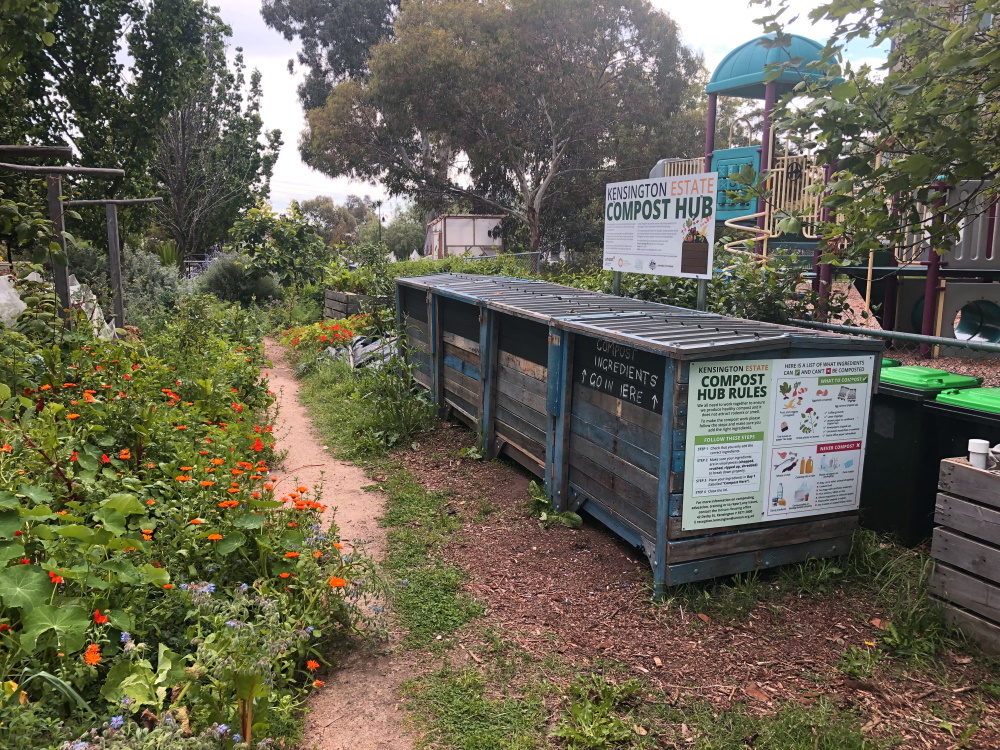 The normally bustling community activities on the Kensington estate have been quiet over the past 18 months. However, you will be pleased to know work has been chugging along and projects on hold are poised to welcome people back again.
With a focus on sustainable living, Unison Housing, the estate manager and partner, Living Learning Australia have continued work on the compost and food growing activities in the award-winning Community Food Forest, for the benefit of residents and the environment. Vegies and herbs have been continually planted throughout the past 18 months ensuring fresh produce is available. The Compost Hub is up and operational with wonderful new signage. Residents are contributing their fruit and vegie scraps to produce healthy rich compost which is used for mulch and natural fertiliser in the Food Forest and surrounding estate garden beds.
To launch the new Compost Hub, a special edition of the Waste Wisdoms newsletter was distributed to estate residents and 2,000 households in surrounding streets.
During the pandemic, Unison Housing, in partnership with the Kensington Neighbourhood House and Hotham Mission, has made sure vulnerable members of our community have access to healthy food including fresh produce. A weekly market outside the Community Hub in Ormond Street has provided over 50 happy seniors with fresh and non-perishable produce. Approximately 30 food hampers have been distributed weekly to community members most in need, often isolated and with no family support.
Unison co-chairs the Kensington Community Network (KCN) with the Kensington Neighbourhood House. The network is made up of local organisations and community members who work collaboratively to ensure the wellbeing and amenity of the Kensington community. "We are very much looking forward to reactivating projects on hold, developing project ideas and seeing lots of smiling faces together again as we carefully transition to a COVID normal," said Deb Wilson from Unison Housing.
"For example, there will be many senior residents excited about getting back together as part of the Threading Stories project, which was on hold during COVID restrictions. People will come back together sharing stories of culture, country and craft skills, such as hand sewing, crocheting and silk flower making, in a setting that usually includes a cup of tea, lots of chatting and a plate of treats!" 
Share this article