Craft and conversation bring joy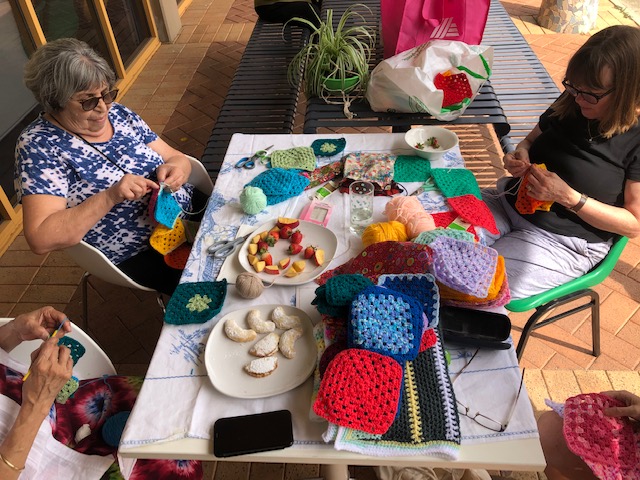 Threading Stories is a community project where senior Unison residents in Kensington connect, share stories and craft skills, in a setting that usually includes a cup of tea, lots of chatting and a plate of treats.
Despite the changing COVID environment, it has been a really positive program. When the group can come together the women enjoy simple hand sewing, knitting, crocheting, weaving, silk flower making and other craft activities. People get to know each other and share stories of culture and country, and how crafts are passed on through generations.
The program also provides an opportunity to both share and learn new skills, with participant-led sessions a feature. When the program began with COVID restrictions limiting the group gathering, craft packs were sent to participant's homes to help keep them busy and active.
Kensington resident Maria is part of the program. She reminisces about growing up in Uruguay and the importance of craft in her family. "My mother taught me to crochet when I was young, and my mother, grandmother and I would sit and crochet together."
Women from diverse backgrounds have joined the program including from India, Uruguay, China, New Zealand, Iran and Australia. The program is a Unison collaboration with the Kensington Neighbourhood House and the 78 Seniors Club, a club developed in our Kensington community to engage older local residents in social activities. It is funded by an Australian Neighbourhood Houses and Centres Association (ANHCA) Supporting Stronger Communities grant.
"Seeing women share their skills and teaching others has been wonderful. The participants have created a relaxed and welcoming environment where craft has facilitated conversation to flow," said project coordinator Esther Sadek from the Kensington Neighbourhood House.
Although more were planned, the group has thankfully been able to go on one excursion, when they attended a weaving workshop at the Arts House in North Melbourne, with a master reed weaver from Papua New Guinea.
Deb Wilson, Unison's Community Engagement, Place Manager explains the joy the project brings. "Threading Stories has been a breath of fresh air amidst the gloom of COVID. It's endured the stop-start-stop nature of lockdowns. Each time it gets the green light it attracts a wonderful and diverse cohort of craft enthusiasts, all women who share their talents and conversation around a table full of materials, yarns and tools, threading their stories."
If you are a Kensington resident over 55 and are interested in the program, we invite you to contact the Kensington Neighbourhood House on 9376 6366 for more information.
Share this article