Martin shares his story of a journey and a place
"My father was Luritja and a traditional Lore Man and mum was Arrente/Wurrununga. I am originally from Alice Springs, but have mostly lived in Adelaide from about six weeks of age."
A journalist, actor, musician and mentor, Martin has always been in the arts. He is off to MC a NAIDOC Festival in Uluru in July, hosted the recent Indigenous Community TV Awards in the NT and mentors journalism students at a number of catholic schools in Adelaide.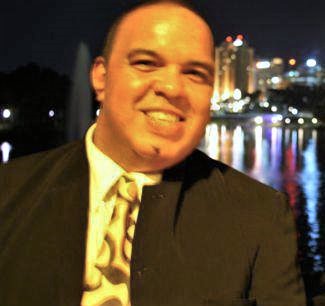 He has a voice like honey and sings in the jazz cabaret band The Flash Blacks, which has performed at NAIDOC Balls, last year's Lord Mayor's Christmas Ball and the Adelaide Fringe Festival to name just a few gigs. Being a natural at communicating led Martin to study Media and Journalism at RMIT in Melbourne in the mid 90's where he was the first Aboriginal course graduate.
At six weeks of age Martin was forcibly removed from his young parents by the Government and taken to a "receiving home" in Alice Springs. This "home" was for children under the care of Government while awaiting transfer to institutions, adoption and foster care. It looked like a family home from the outside but was set up as a maternity ward inside.
Martin was then flown to Adelaide and adopted by a white Catholic family. Describing it as an "interesting upbringing in a dysfunctional family", Martin was the only Aboriginal child in the family of seven children and went to a private catholic school. Although somewhat isolated, Martin knew other local Aboriginal people in the area such as the Kaurna, Ngarrindjeri and Narungga, most of whom became extended family.
"The disconnection from my indigenous family and culture led me to homelessness for close to 20 years," Martin explains.
Martin headed back to Alice Springs to find his birth mother and father, and family, as soon as he could legally do so. He discovered his dad had died quite young sadly, before he could meet him as an adult, but Martin was able to reconnect with his mum, his biological siblings and his community.
Martin only knew his mum for five short years before she died. He describes it simply: "I lost my mum, found her again, only to lose her again."
He loved his adoptive parents, who were often misunderstood by their own families and asked why they would do such a thing. The father died when he was very young in the 1970s and the mother more recently in 2011.
Now in his mid-50's, Martin has been living in the Unison managed UNO community in Adelaide's CBD for just over two years. He has been involved in UNO community events including performing at the UNO's 5th birthday celebrations and UNO's NAIDOC events. He regularly goes back to Alice Springs to see his family and stay in the remote areas related to his father.
Martin strongly believes that "culture and connection" start from within one's soul, and with his strong sense of identity from a very young age this became the catalyst for him to eventually track home to Alice Springs. "When removed children go back it doesn't end there, it actually starts there," he says. "When I went back to Alice Springs I left after a few weeks, but I kept going back. In the meantime, I became sort of homeless for at least 20 years, living in Aboriginal Hostels, youth accommodation places and share houses."
"I will NEVER feel fully safe and secure as I was a traumatised child, but I made the best of it. Life isn't always a box of chocolates and there's always a lot of people worse off than me I thought."
Martin reflects on his life now. "I have been itinerant since I was adopted but I don't feel that now. [The UNO community] is a beautiful place to live, and my family from up north are able to come and visit. The apartments are spacious which produces a really positive vibe of my place, my freedom and my journey."
"I feel part of the UNO family which is very caring. There is a whole lot of respect in this community.
"Although I know I won't be here forever, I feel stable. The UNO has provided a foundation for me to prosper.
"I think my biggest advantage is that I was born Aboriginal. I have always been a positive person and I believe you should always walk your journey with dignity and your head held high."
Share this article