Renewal. A story of another life.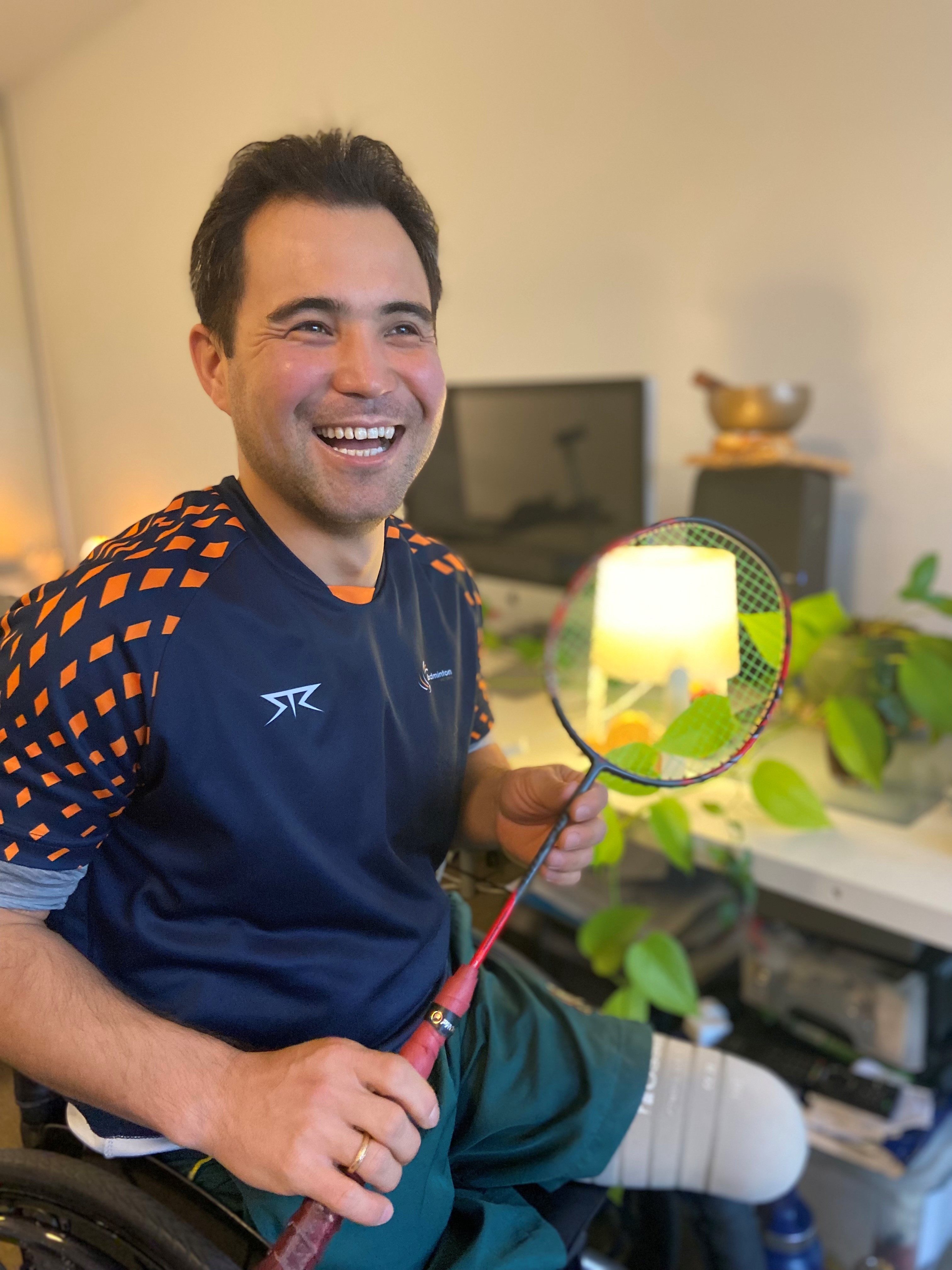 Unison renter Ali is a current international badminton star. Badminton has changed his life and has given him more than the sport itself.
Born in Afghanistan during troubled times, Ali migrated to Pakistan with his family when he was 3. Ali sought refuge in Australia as a teenager, along with his brothers, as the region became unstable. Achingly, his parents gave their children their blessing as they farewelled them for a new life of opportunity and stability.
Everything was different for the teenager when Ali arrived in Australia. "The culture was all so new. Attending the English Language School was a wonderful way to learn about our new country and the changes we needed to make."
Ali speaks plainly about how he became a lower limb amputee. "I had severe depression when I moved to Australia and tried to end my life. I had a train accident which resulted in the amputation of both my lower limbs."
Hospital, a long recovery, and rehab became part of Ali's new life.
Ali is gently spoken and has a serenity about him. On reflection, he sees this time as an important journey in his life. He connected with the para sport community through the hospital. "It was the first time I saw people like me, playing together and having fun. It was inspiring and really helped my recovery. I saw another life."
Ali was just 18 years old when he was discharged. His rehabilitation case manager helped him access a Unison disability modified unit in inner Melbourne, close to the hospital and to his school where he completed his VCE. He learnt to drive and bought a car, and Unison supported Ali in his transfer to another centrally located accessible Unison apartment with off-street parking.
"The off-street car park is a big help, the bench heights are good and the bathroom is spacious. The maintenance team are very responsive and pro-active.
I am very lucky to have the Unison management team on site if I need assistance."
Ali completed his VCE and went on to study Graphic Design. An interest in the "user experience" of spaces and services and how design can cater for people of all abilities, has resulted in Ali joining a Melbourne University project team looking at accessible city design.
He also developed a love of badminton. The para badminton community welcomed Ali with open arms. "I was really encouraged, and I thought "wow" I want to keep doing this. It was good for my mental health. It gave me confidence and I improved. I have a focus on taking care of my physical and mental health. I exercise every day, get fresh air and I eat well."
The result? Ali competed in his first world para badminton championship in 2022 and has been an internationally ranked player on the championship circuit since.
Ali's world is broad and full. He visits his brothers and their families regularly and he continues to live in his Unison accessible unit. His eyes shine when he talks of his future. "Badminton and the para badminton community gives me more than the sport itself. It has given me skills that enhance my life."
"I coach able bodied kids and kids with a disability. I love to help give these young ones a safe space to grow and realise their full potential. I am hoping to work more in this area in the future.
"I see my potential now. I know that people care about me. Before my accident, I couldn't see that."
"Oh, and I just got engaged!" he smiles.

Postscript:
After this story was written, Ali competed in the Oceania 2023 Para Badminton Men's Wheelchair Singles and Men's Wheelchair doubles. He won both titles!
Share this article