Research finds why some stay longer in social housing than others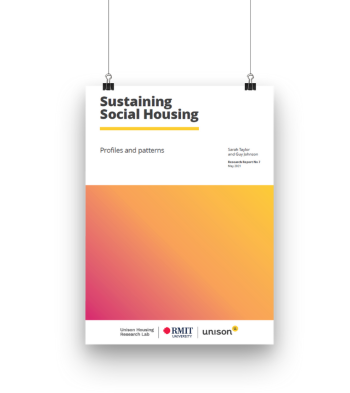 Social housing provides safe, secure, long-term accommodation for some of the most disadvantaged in the community. But new research shows that some people are more likely to stay housed longer than others.
'Sustaining Social Housing – Profiles and Patterns' is the seventh report produced by Unison Housing Research Lab, a collaborative partnership between RMIT and Unison Housing, one of Victoria's largest social housing providers.
Researchers examined the records of over 1,900 social housing tenancies and discovered five key indicators that can impact upon how long tenants stay in social housing:
The type of property (rooming house or self-contained accommodation);
The age at which they start their tenancy;
Their income type;
The type of housing they were living in prior to beginning their tenancy;
The location of the social housing property.
Lead researcher Dr Sarah Taylor from RMIT said social housing was fundamental to resolving homelessness and addressing chronic housing instability, so providers need to know more about why some households stay housed for a long period of time while others leave early, often leaving them without secure housing.
"Stable, good quality and affordable housing is associated with better outcomes for tenants and the community, such as education, health and employment. It's in everyone's best interests to reduce turnover in social housing," she said.
"Some of these factors are within the control of social housing providers, while others are not, but it is important to understand these dynamics, with an overarching goal of lifting tenancy sustainment wherever possible."
The report found that older people, recipients of the Disability Support Pension and households who were in private rental or a boarding house prior to moving into social housing are more likely to sustain their housing.
Tenants who had recently experienced homelessness or had been incarcerated are less likely to sustain a long-term social housing tenancy.
Only nineteen per cent of people who were behind bars prior to moving into long-term housing, and 50 per cent of households who were homeless immediately prior, were still in their tenancy after 24 months, compared to 66 per cent for tenants previously in private rental and 76 per cent for former boarding house residents.
Unison Housing CEO James King said the report provided important lessons for social housing providers.
"Understanding the factors that contribute to our renters maintaining their tenancy for longer is critical," he said.
"The research presents community housing providers with data-driven findings that can guide future decision making and help develop strategies to assist our tenants with staying in their home for longer."
---
>> The report is available for download here: Sustaining Social Housing - Profiles and Patterns (PDF, 1.8Mb)
>> Did you miss the launch of our latest report - Sustaining Social Housing, or want to watch it again? Below is a video recording of the event.
>> Click here to find out more about the Unison Housing Research Lab and to access other research reports and Think Pieces.
---
About the Unison Housing Research Lab
The Unison Housing Research Lab is a unique education and research collaboration between RMIT University and Unison Housing. The Lab was established in 2017 and is funded for five years to develop and implement a collaborative teaching program and undertake innovative policy and practice relevant housing research informed by the experiences of services users and providers. Find out more: https://unison.org.au/about-us/research-and-advocacy
About Dr Sarah Taylor
Sarah is a postdoctoral research fellow in the Unison Housing Lab. She has over fifteen years' experience working with Geographic Information Systems, databases, software development, and mixed methods research. She often works with very large datasets and brings together different types of data in novel ways. As part of her work in the Unison Housing Lab she manages the Maximising Impact longitudinal study of 170 social housing tenants. She has also published on service use patterns at a high-volume homelessness service, and on different forms of rooming houses.
About Prof Guy Johnson
Guy is a Professor of Urban Housing and Homelessness at RMIT University and the Director of the Unison Housing Research Lab. He has been involved in the area of precarious housing and homelessness for over three decades, initially as a practitioner and more recently as a researcher. Guy has extensive knowledge of existing homelessness research, current homelessness policies, and is well acquainted with the homelessness service system.
Share this article