Building for a diverse community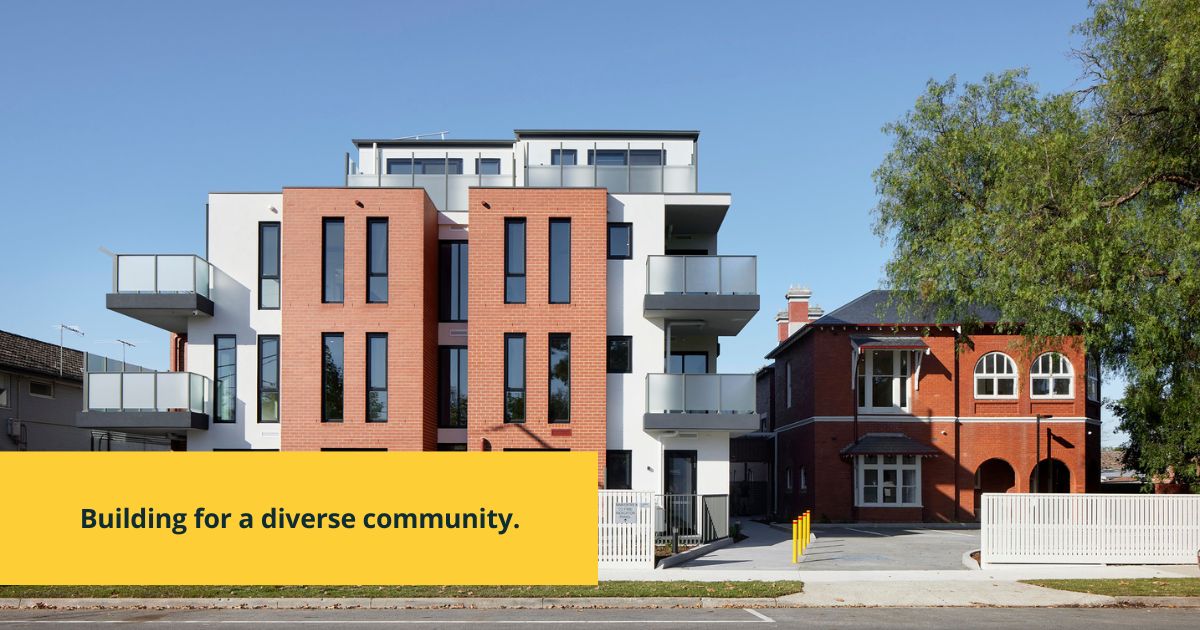 Unison's affordable homes provide equal access for our diverse community, including young children, seniors and people with different abilities. They include homes explicitly designed for people who live with a disability. We proudly build versatile, quality homes for people to live safely and comfortably. Our accessible and adaptable homes meet the needs of our community now and into the future.
"Incorporating accessibility design elements and flexibility in our homes means that we provide homes for people who need a modified design now. It also means we future-proof our homes for people who may have specific needs in the future," explains Senior Project Manager David Su.
All new homes developed by Unison are designed and built to the National Construction
Code (NCC), previously known as the Building Code of Australia (BCA), with accessible homes constructed to the Livable Housing Design Guidelines.

The seven core design features in the Livable Housing Design Guidelines that Unison evaluates designs against are:
A safe continuous and step free path of travel from the street entrance and / or parking area to a dwelling entrance that is level.


At least one, level (step-free) entrance into the dwelling.




Internal doors and corridors that facilitate comfortable and unimpeded movement between spaces.


A toilet on the ground (or entry) level that provides easy access.





A bathroom that contains a hobless shower recess.





Reinforced walls around the toilet, shower and bath to support the safe installation of grabrails at a later date.





Stairways are designed to reduce the likelihood of injury and also enable future adaptation.

At least one, level (step-free) entrance into the dwelling.




By including the core livable housing design elements, Unison has the opportunity to reduce or avoid costs associated with retrofitting a home to improve access in future, should it be required.
Our new development in Cottrell Street Werribee includes DDA (Disability Discrimination Act) apartments. Our on-site office is also designed with DDA compliance in mind and provides an accessible building entrance for our renters and clients to access Unison's services. Design considerations include a step-free entry into the office, a purpose-built reception counter, access to suitably sized interview rooms, a toilet/shower, and on-site parking.
"Forward-thinking means we can readily accommodate changing needs. Our adaptable design is cost-effective and minimises disruption. For example, it makes sense as our renters grow older, for those who may sustain an injury or have reduced mobility, or for families with babies and young children. Importantly, our renters can stay in their current homes as their needs change and maintain community connections," adds David.
Share this article