New waste-wise program for our Kensington community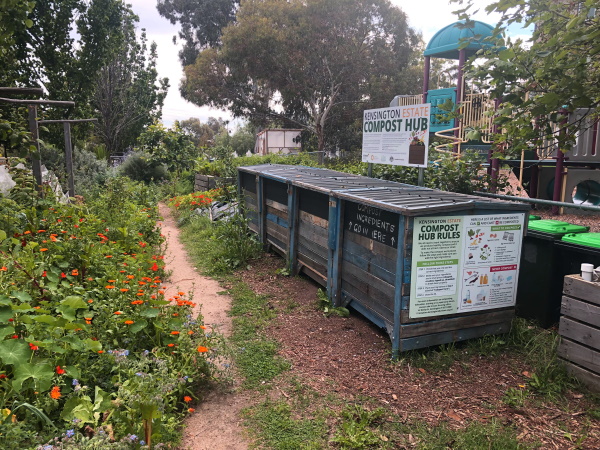 Kensington Neighbourhood House (KNH), Unison Housing and Transition Town Kensington are leading a program that will invest close to $80,000 to reduce waste and help continue to drive sustainability practices in the local area. The program funds consist of a grant from Sustainability Victoria's Circular Economy Communities Fund, plus co-contributions from the program group.
A range of initiatives will include an expansion of compost bays and compost education, continuing the pop-up repair hubs targeting items such as clothes, textiles, bikes, jewellery, and how-to repair sessions. Newsletters and workshops will also be delivered as part of the Program.
The Kensington Community Waste Wisdoms Program will be run by local community organisations passionate about sustainability, our local environment and our people. It will educate, inspire and increase awareness of local waste initiatives and provide participation and volunteer opportunities. The community program builds on various sustainability pilots, knowledge and community expertise, and on the great work already achieved by the lead agency group,
Other local agencies supporting the project include Flemington Kensington Rotary, Kensington Association, The Venny (Kensington's Adventure Playground), the City of Melbourne and the Kensington Community Network.
"Our aim is to help the Kensington community transition to a circular economy by providing creative solutions to reduce waste generally, to prevent it going to landfill and to re-purpose waste, such as increasing the amount of nutrient-rich compost generated for our food gardens. We will also provide education materials and waste-wise awareness through hands-on training," said Jacqui van Heerden, from Transition Town Kensington
Activities will occur at local sites including the Unison-managed Kensington Estate, a mixed tenure community of over 900 homes and shared gardens including the award-winning Kensington Community Food Forest.
"Our community wants to learn more about ways to reduce waste. Working with our long-standing partners means we can share resources and knowledge and help to change behaviour locally around this important issue," explained Deb Wilson, Unison's Community Engagement – Place Manager.
Local resident, Daina Ozolins, is a regular user of the newly built community compost hub on the Kensington Estate and is passionate about it becoming more productive. She is big on redirecting organic waste from landfill. "I'm really looking forward to creating compost and being part of a team to do this and excited for this project to start."
---
More information about Unison sustainability initiatives
https://unison.org.au/news/bumper-harvest-in-times-of-covid
https://unison.org.au/news/a-few-simple-steps-and-a-team-effort-makes-all-the-difference
Waste Wisdoms is a Unison produced newsletter series, providing news, information and tips on ways we can all help to manage waste better and clean up our planet.
Here is a selection of Waste Wisdoms newsletter back copies
Share this article