Unison wins National Award for Excellence in Affordable Development
We are proud to announce that Unison won the Urban Development Institute of Australia (UDIA) National Award for Excellence for our social housing development in Melbourne's west.
As a Victorian State winner of the Affordable Development Award and of the Judge's Award Metro, the Unison social housing development was nominated for the National Awards, presented at the UDIA National Summit at the end of April.
"To be recognised nationally as setting the bar in developing affordable housing is something I am incredibly proud of," said James King, Unison CEO.
According to UDIA, "[The development at] Napier Street reflects Unison Housing's desire for this development and its community to be a participatory member of the neighbourhood by successfully responding and contributing to the natural and built found experience.
"Unison Housing is to be highly commended for implementing this inspirational project, transforming a dilapidated apartment block in Footscray into 54 new affordable self-contained, social housing apartments.
"The project challenges our industry to provide high quality housing for the most vulnerable in our community, with contemporary design and secure housing, coupled with facilities for direct enterprise support, tenant engagement and community interaction.
"The judges were highly impressed by the quality of the build, delivering a project which reflects typical 'build-to sell' typology while avoiding institutionalised materials and design language. This enables a high quality of individual, sustainable apartments for tenants and has assisted in destigmatising affordable housing within the broader area. This is an aspirational project for which Unison Housing, should feel exceptionally proud."
Upon hearing the news, Matthew Kandelaar, CEO of UDIA Victoria shared his congratulations,"This is an amazing project and so deserving! Well done James King and team!"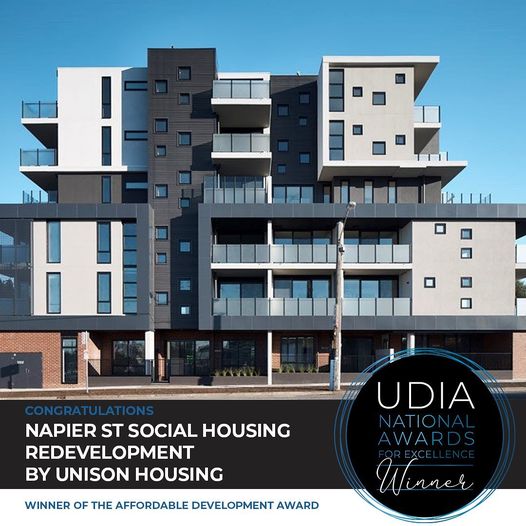 Back in 2018, Unison started the transformation of an aged and dilapidated rooming house of 17 small units into a first-class building with 54 brand new self-contained studio and 1-bedroom apartments, spread over six levels. Opened in 2020, weeks ahead of schedule, the complex offers safe, modern and long-term accommodation to people who need it most in Melbourne's west.
"Residents' well-being and quality of life is always top of mind when designing a project like this," Explained King. "Together with our builders and design team we've created a place where people can feel safe, welcome and proud to live in."
Armindo De Olizeara is one of the tenants of the new building. After moving into his own self-contained flat in Footscray he said: "I feel like I'm in a five-star hotel. I've got lots of space. I'm very happy where I am."
Armindo De Olizeara (right) outside his new home at a social housing development in Footscray, with Unison CEO James King. (CREDIT: JASON SOUTH)
The social housing development incorporates biophilic design elements with great natural light and airflow, a friendly large communal area and outdoor garden, high-standard energy efficiency, accessible facilities, and enhanced safety measures.
The aim of the sustainable design features is to reduce the overall environmental impact, whilst also accommodation quality and reducing the resident's utility costs.
As part of Unison's approach to tenancy management, the building is also home to a Place Management Office, which enables our team to provide timely and personalised support to assist people with their tenancies and connect them with their community, local services, and social and economic opportunities.
Outreach is provided onsite by Unison partners McAuley Women's Community Support Services, for the women McAuley have referred to Napier Street.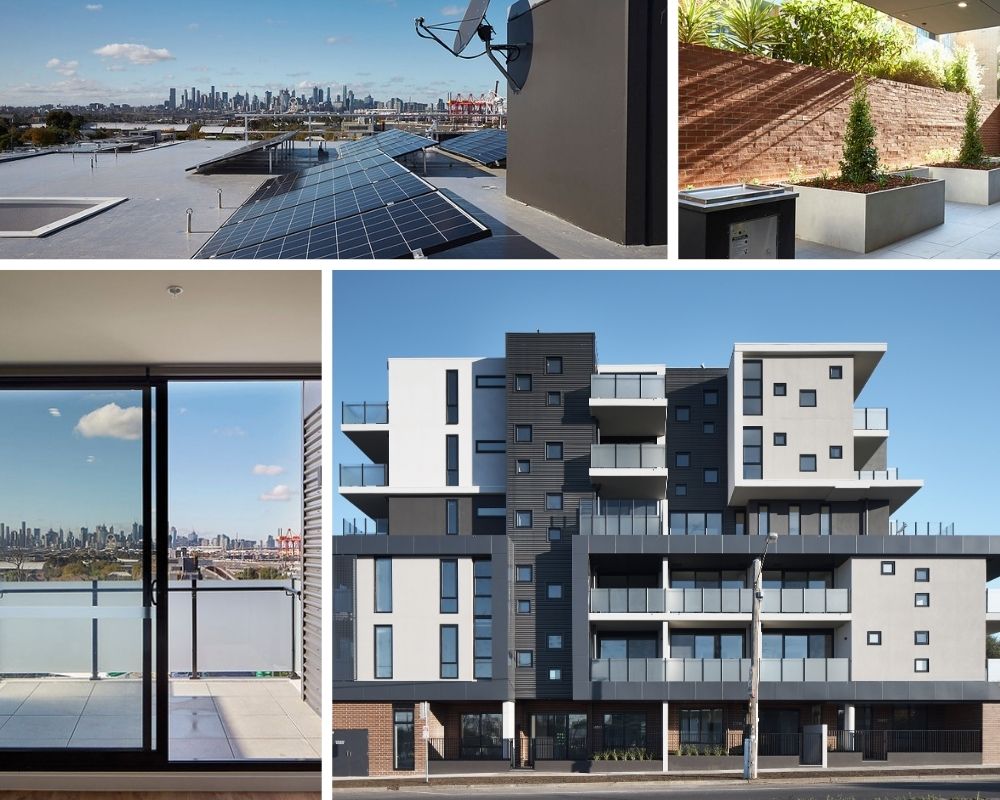 Resident, Wheels, moved from the old rooming house to the new building and is very much enjoying his new self-contained unit. "It is a lot lighter and brighter than the old building. The bathroom and kitchen are bigger and it is so quiet," he said.
"It gives me a real sense of freedom and is less stressful. I don't have to worry about other people's mess, I can choose when to wash my dishes and can make a snack in the middle of the night if I want to."
We are proud of the benchmark this development sets for social and affordable housing.
In his acceptance speech, King acknowledged our funding partners, stakeholders and project team.
"Huge thank you for the Victorian Property Fund, for in part funding this development. This project wouldn't have happened without their support," King said.
"Our project team, Manresa Constructions and Reshape Development, thank you also.
"Key stakeholders, Maribyrnong City Council, for their continued support.
"And lastly but not least, my staff, the Unison team, this project wouldn't happen without your planning, your commitment to increasing the supply of social and affordable housing."
---
More articles about this development:
Share this article